Johnny Mercer Theatre | Savannah, Georgia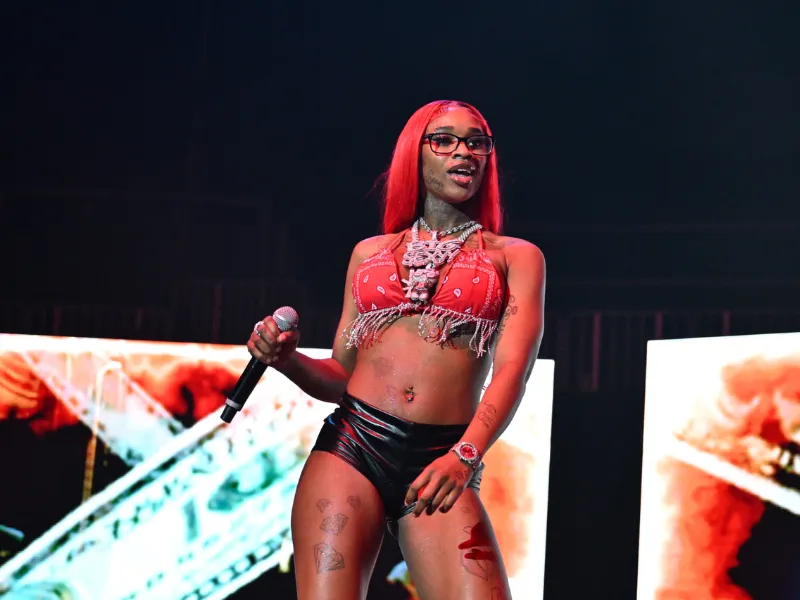 On Friday, December 8, Billboard's Summer 2023 breakout artist Sexyy Red will burn the curtains off the Johnny Mercer Theatre with guest acts Lil' Boosie, Big Charm, and Pretty Porcelain! Hot off the success of her sophomore mixtape, the rising rap star announced seven new December dates for her promotional tour across the United States. No filters. No shame. No holding back. Sexyy Red is the new generation's answer to empowerment. Brandishing a knack for rhythm and a wit for punchlines, she defined the last summer season with the gold-certified "Pound Town 2" remix feat. Nicki Minaj from her Billboard 200-charting Hood Hottest Princess album. Stoking the fires further, her Billboard Hot 100 hit single "SkeeYee" hypnotized music review giants like Pitchfork magazine, supporting Red's "Best Breakthrough Hip Hop Artist" nomination at the recent BET Hip Hop Awards. The Johnny Mercer Theatre is excited to host this young icon, backing her on-stage flair with first-class concert amenities. Tickets are out - get yours now!
Get your ghetto drip on, girl, and make way for the one-woman rebellion that shook 2023 to its core! Breakout rap star Sexyy Red is currently on the road for her first-ever headlining tour, with seven new dates promoting her sophomore mixtape. The "Hood Hottest Princess" tour is slated for a Johnny Mercer Theatre appearance on December 8, with opening acts from Lil' Boosie, Big Charm, and Pretty Porcelain.
"Red may be hanging out with A-listers these days, but her personality and sound have more in common with Milwaukee's street-rap stars: she's raw, defiant, quirky, confident, authentic."
Hood Hottest Princess was released on June 9 under the OpenShift record label, featuring guest vocals from today's HOTTEST rap icons, including "Queen of Rap" Nicki Minaj. In eleven tightly produced tracks, this Billboard 200-charting album promises animated beat selections carrying lyrical and hysterical debauchery.
I'm the Shit
SkeeYee
Hellcats SRTs
Pound Town 2
Looking for the Hoes (Ain't My Fault)
Sexyy Walk
Strictly for the Strippers
Nachos
Mad at Me
Born by the River
Female Gucci Mane
Explicit. Raw. Authentic. Sexyy Red is comfortable in her skin, and she's not the least bit shy to flaunt it off. With a jaw-dropping instinct for rhyme and rhythm, the St. Louis-born rapper exerted her fiery attitude into the mainstream this year with the gold-certified "Pound Town 2" remix of her Billboard Hot 100 hit "Pound Town." Following it up is "SkeeYee," Pitchfork magazine's "hypnotic and nutty" track standout from Red's latest mixtape.
Hailed as one of the BIGGEST summer breakouts by Billboard, Sexyy Red was featured in GRAMMY Award winner Drake's "Rich Baby Daddy" chart-topping single. She was also nominated "Best Breakthrough Hip Hop Artist" at the recent BET Hip Hop Awards.
Guest act Lil' Boosie (now Boosie Badazz) is a Southern hip-hop icon and self-styled "reality rap" artist best known for his debut album Youngest of da Camp, and his most recent one, Lines for Valentines. Big Charm, meanwhile, is an up-and-coming rapper who turned heads with her songs "Come 2 Me" and "Baby Daddy Killa." And finally, Pretty Porcelain is a Miami-based upstart with centerstage-worthy hits like "Stop Playing With Me" and "Feisty."
Call your friends, set up a Friday night out on December 8, and watch Sexyy Red take over the Johnny Mercer Theatre at the Savannah Civic Center, Georgia! The intimately staged performing arts venue emphasizes guest comfort, from convenient parking to top-of-the-line seats, with pitch-perfect acoustics to elevate your concert experience to the max. Buy your tickets now and see Sexyy Red LIVE!