Johnny Mercer Theatre Information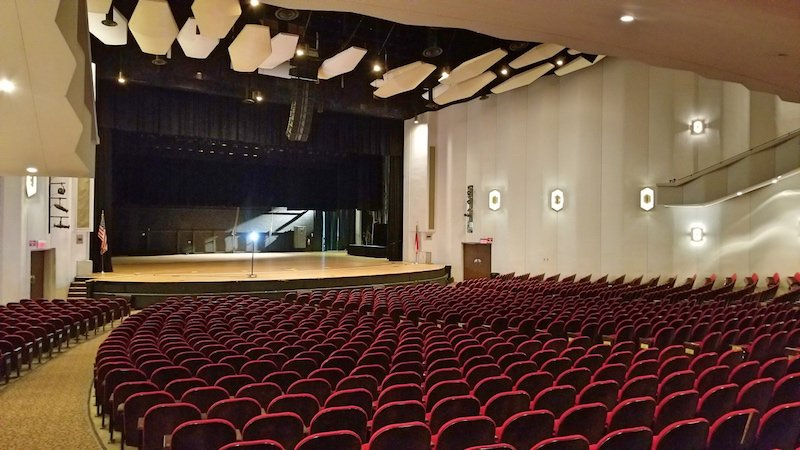 If you've read any of the rave reviews about the Johnny Mercer Theatre, you might think that it is the main attraction for Savannah's live performance scene. But it is only one part of the larger Savannah Civic Center facility. The facility, built-in Savannah, Georgia's Historic District, was first constructed in 1974. It consisted of four main venues; the Martin Luther King Arena, West & East Promenades, the Civic Center Grand Ballroom, and of course, Johnny Mercer Theater. These venues work together to provide performance spaces and live venues for events from concerts, plays, and Broadway productions to college graduations, trade shows, comedy shows, and more. The Civic Center servers the larger Georgia community by providing a classy and spacious area that's perfect for event planning, national gatherings, and shows, as well as all the tools required for production management.
Every year, the center hosts nearly 900 events from small one-time shows and events to annual events. These popular events include the Savannah Tire Hockey Classic as well as games for the Savannah Bees basketball team, the Savannah Spirits basketball team, and the SAvannah Rug Ratz soccer team of the EISL. The facility has also hosted the 1986-87 Big South Conference men's basketball tournament. Artists from all over the world are drawn to the facility for their biggest Georgia shows. As you can imagine, big-name entertainers always place the Savannah Civic Center's venues on top of their list, whenever they want to appeal to the best crowds on their side of the country.
Given the mass appeal of the facility, visitors might be surprised to hear how close it came to being lost including The Oglethorpe Plan, which seeks to demolish the civic center to create more green space as of a vote in June 2019. Currently, longtime Savannah residents, led by Paul Mazo seeks to "Save the Mercer" by showing how important the venue is to the local arts community.
Visiting the various venues of the Savannah Civic Center, including the Johnny Mercer Theatre, is an excellent way of showing support to this important cause.
Further information on Johnny Mercer Theatre:
Ticket Policies:
Read about the ticket policies and authenticity guarantees for tickets purchased via this website.
Johnny Mercer Theatre Seating Chart:
View the Johnny Mercer Theatre seating chart and seating options.
Johnny Mercer Theatre Parking:
Find out more about parking and driving arrangements at the Johnny Mercer Theatre.