Johnny Mercer Theatre | Savannah, Georgia
This past few months, everyone has been talking about Bluey and how the show has captured hearts not just with children but all ages. If you are among those who have become a fan of the lovely animated show, come to the Johnny Mercer Theatre on July 19 and join Bluey and her family for an unforgettable live stage show! Bluey's Big Play promises to be an exciting and interactive performance—featuring songs, storytelling, and plenty of fun and games. Get ready to be part of the show as you join Bluey, Bingo, Bandit, and all their friends for a fun-filled day of music, laughter, and play. Don't miss out on this incredibly exciting event. Buy tickets today and join in on the fun! To reserve tickets, click the "Get Tickets" button.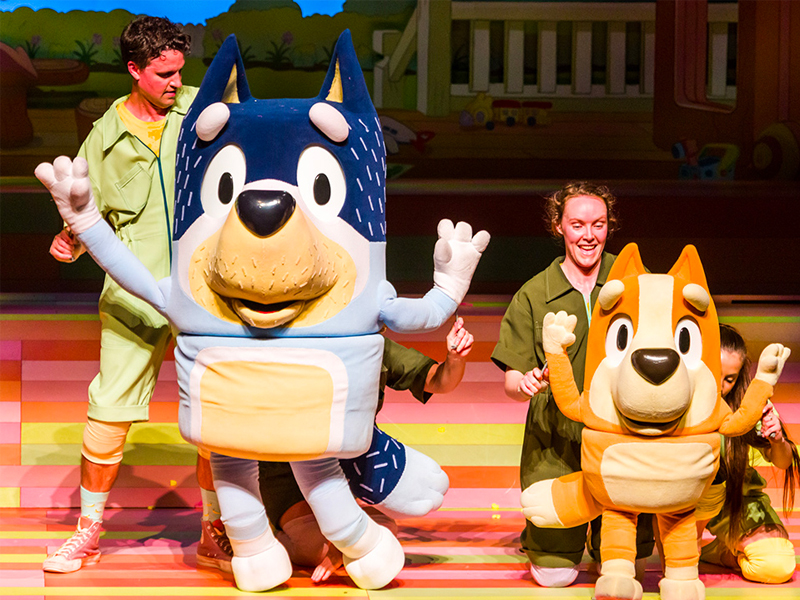 Fans of Bluey will surely be thrilled to see the Heeler family off-screen and on tour in the US for the first time. Bluey's Big Play is a stage show that brings the hit children's television show to the live stage.
The show is adapted from the television series and follows the same storylines and characters but with more interactive elements that allow audience members to join in the fun. The show is designed to be accessible to all ages, with a focus on connecting with children and families.
It features many of the beloved characters from the series, as well as several original songs and dances. The show follows Bluey and her family as they plan and prepare for a big play in the park. As the show progresses, the audience gets to help create the sets and costumes and join in with their own ideas and suggestions. The show also features a number of interactive elements. From dressing up in costumes to helping create props, the audience is encouraged to join in the fun and help Bluey and her family put on the best show ever. At the show's end, the audience is invited to join the cast on stage for a final dance, allowing them to celebrate the success of their hard work.
Bluey's Big Play is a wonderful way to bring the show to life and provide families with a unique experience. It is a great way to bring families and children together while also providing an opportunity to explore creativity and problem-solving. The show is a wonderful example of how art and theatre can create positive experiences that can be shared and enjoyed together.
Bring your children to this wondrous live experience of the beloved show. Catch the Heeler family at the Johnny Mercer Theatre in Savannah, Georgia, starting on Wednesday, July 19. Get tickets now before they sell out!